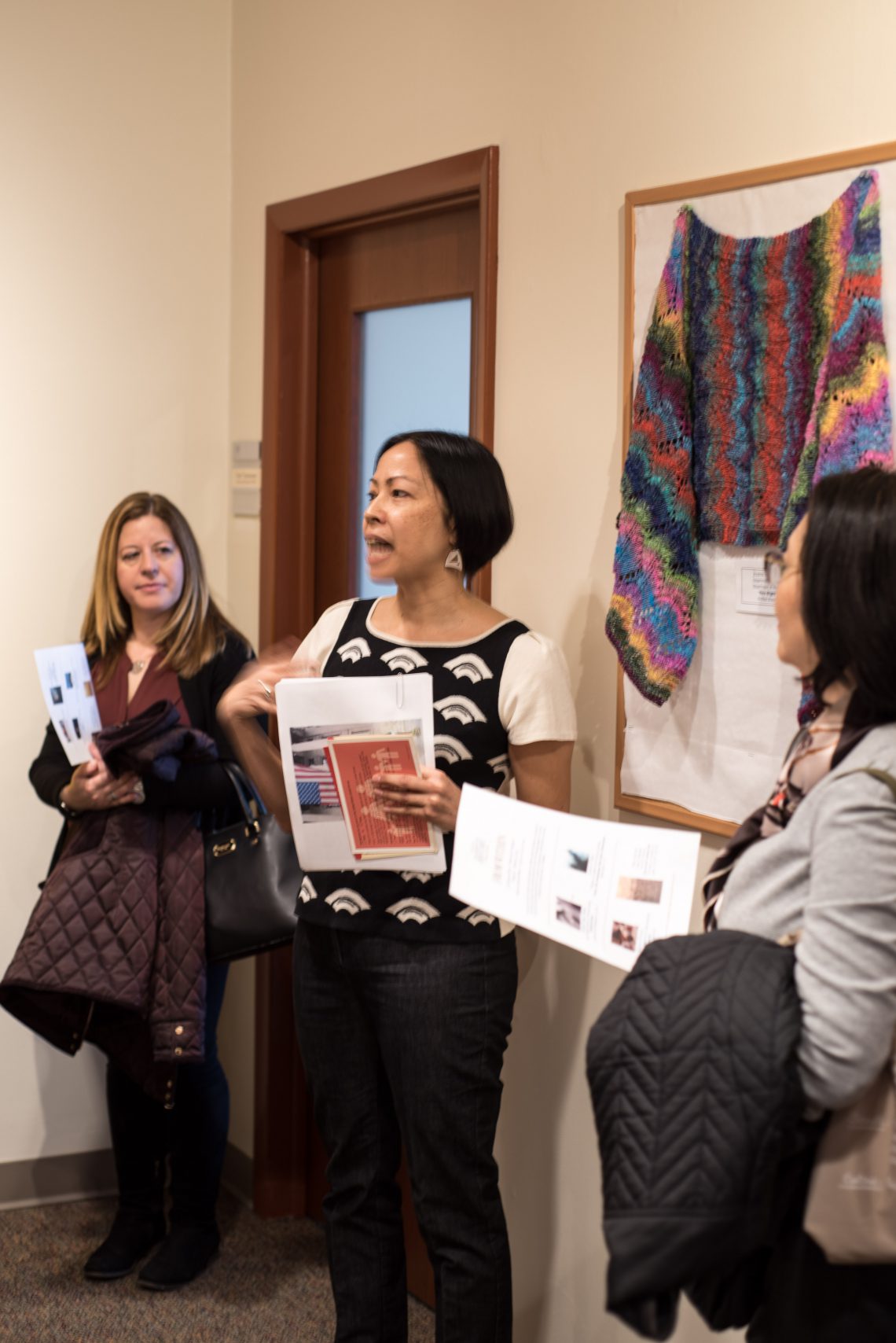 From Within – art exhibit (3/14)
This special art exhibit showcased the hidden talents of amateur artists on staff and faculty, including our very own Chanika Svetvilas and Jennifer Cabral-Pierce.

IEGAP members gathered to listen to artists' commentary on their art project. It was very moving to hear Chanika and Jeniffer's stories about their art and experiences.
Few words from IEGAP members:
Thank you for sharing your art with us.The talk was impressive, moving and very emotional. This is what art should be deep connection with the people.
Thank you both – Jennifer and Chanika for sharing your art and stories! It was such a great experience, you touched our hearts.
Thank you Jennifer and Chanika for sharing your very important works and hearts with us. Your commitment to your work and to the very important issues they address were so evident and incredibly inspiring, It was such a meaningful experience. I feel that I gained so much from hearing about your work and getting to know you both.
I too enjoyed the presentation very much. Jennifer, Chanika — your story made this occasion more meaningful!Thank you for sharing your story to us.
Chanika Svetvilas utilizes narrative as a way to share experiences to disrupt stereotypes and to reflect on contemporary issues and cultural identity. Past projects include: collecting objects and stories that reflected an immigrant history from surrounding New York City communities for a commissioned window installation at the Lower East Side Tenement Museum; stationing a handbuilt mobile immigration booth on the streets of Brooklyn to survey the needs of English language learners with the Asian American Legal Defense and Education Fund; and disseminating immigrant rights information with the youth program, Leadership Through the Arts for the Queens Museum. More recently, at The Ohio State University, she interviewed faculty, staff and students who self-identified with disability to speak about accessibility issues and the disability community on campus. She has presented her work nationally at exhibits and conferences.
Photographer Jennifer Cabral-Pierce graduated from the School of Fine Arts Escola Guignard at the State University of Minas Gerais, and holds a BA in Social Communications from Pontifical Catholic University of Minas Gerais (PUC-Minas). She has been an independent photographer in Central New Jersey since 2001, when she relocated from her native country, Brazil. In 2010, she accepted a position at Princeton University as a Library Collection Photographer for the Rare books and Special Collections division creating imagery for their Digital Library Initiative. She is currently pursuing a Masters of Information degree at Rutgers University. Her complete bio can be found at http://www.piercecabraleditions.com/cabral
Flyer of the event:
From-Within_Info_Art_Exhibit


The art exhibit was also described on PU webpabe: https://careers.princeton.edu/from-within-art-exhibit-showcases-multidimensions-of-princeton-faculty-and-staff/